Updated Web GL to v.31 but the sprite stretch glitch is still there!
---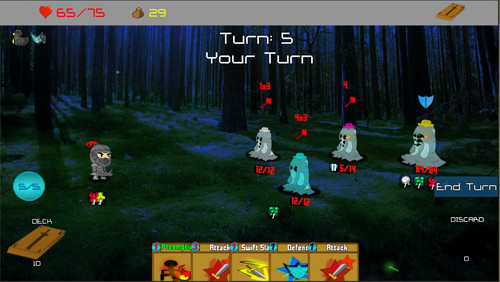 This update again brings the game in line with the stand alone version minus the sprite stretching bug? Haven't been able to find out the cause yet.
Whats new!?
- Main menu improvements
- Card Art (its mine and its kind of crummy XD)
- Animation improvements for bandits and the player
- Slime Lord Elite fight changes: Slime lord can now: summon more slimes, buff other slimes , debuff the player with 3 stacks of slime and rebuff osmosis stacks. (Osmosis now buffs the dead slimes strength and dex properly).
- Combat UI text for: damage, buffs and debuffs.
- Visual particle effects for: getting damaged , damaging enemies and enemies dying.
- Particle effects for the game play level in the background.
Whats next!?
- The ability to go back to main menu without dying! (so basic should've been there ages ago)
- The game will continue if you manage to defeat Obradin!
- The Golem elite fight will be improved.
- New cards (AOE attacks)
- And other improvements
- UI improvements
Files
LilAdventureTale_WebGL_v0.31.zip
Play in browser
Mar 12, 2019